As a recruiter, you presumably find some great candidates who are actively looking. But the fact of the matter is that most of the best candidates are not actively looking for a new job. Instead, they may be satisfied in their current position, or they may not be aware of the great opportunities that are out there. As a recruiter, you will often have to source passive candidates. However, since 60% of the workforce is not actively looking for a new role, this is one of the best ways to find top talent. 
What is Passive Candidate Sourcing?
Passive candidate sourcing is the process of finding candidates who are not actively looking for a new job. Doing so can be done in numerous ways, including social media, networking, and using search engines. 
Typically, passive candidate sourcing involves finding candidates who are already employed. However, there is also a growing trend of finding passive candidates through employee referrals.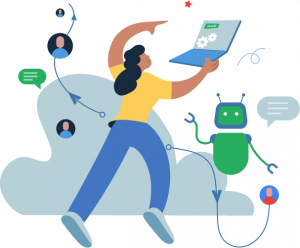 Here are a few ways to engage passive candidates: 
Leverage Social Platforms
The best way to find passive candidates is through social media platforms. LinkedIn, in particular, is a great place to find passive candidates. LinkedIn has over 450 million users, and many of them are not actively looking for a new job. 
You can use LinkedIn to find candidates in several ways. For example, you can search for keywords related to their industry or companies that employ similar candidates. You can also use LinkedIn's advanced search features to find candidates who meet specific criteria. 
The search for candidates does not stop at LinkedIn, however. Oversaturation on LinkedIn has made it harder for recruiters to find passive candidates. So, it is important to consider other social media platforms as well. 
Facebook
Facebook is a social network that over two billion people use. Recruiters can use Facebook's targeted search features to find high-quality candidates that you may otherwise miss. According to Glassdoor, Facebook is a significant window of opportunity to connect with those who would not otherwise respond on LinkedIn. 
Twitter
Twitter is a social media platform that 397 million people use. Recruiters can find passive candidates in several ways, including keywords and hashtags. For example, a recruiter hiring a marketing director might target marketing-specific keywords in a company's geographic location. If the recruiter found a user who Tweets marketing-related content and brands it with their current employer, they are clearly passionate and driven and might be worth engaging. 
Alternative Social Platforms
There are lots of niche social platforms that recruiters can become a part of if they want to engage with the best passive candidates, including 
Discord

 

Patreon

 

AngelList

 

Stack Overflow

 

Quora

 
These platforms involve a niche community of active users in their respective spaces. Recruiters can join these communities and engage with candidates to find those that would be an excellent fit for their open roles. Next, this article let us understand how to source candidates using AI tools.
Take Advantage of AI Tools
Artificial intelligence (AI) tools can improve a recruiter's ability to find the best passive candidates. As a result, the market for AI-powered recruiting software will grow dramatically over the next few years. Recruiters can use tools like Oorwin's AI-powered Applicant Tracking System to help them source better candidates with speed and efficiency. 
These tools integrate with platforms like Dice to help recruiters find candidates based on specific criteria. Then, when the data from job hosting platforms meet AI-enabled candidate matching, the ideal candidates are delivered right to the recruiter's inbox. Best of all, recruiters can do this without even leaving our platform. Moving ahead, this article let us understand how to source candidates through positive employer branding.
Generate Inbound Leads Through a Positive Employer Branding
According to Finance Online, companies with reputable brands receive 50% more qualified applicants. You never know where your next great passive candidate will come from, but you can increase the chances of finding them by having a strong employer brand. 
An excellent way to generate inbound leads through a positive employer brand is by creating content that showcases what it's like to work for your company. Branding could include videos, articles, or even podcasts. You can also create profiles of employees on your website to show the world what it's like to work for you. 
Your organization also needs to prioritize social responsibility to enhance your employer's brand. For example, sponsoring charity events, taking initiatives to reduce your environmental impact, and publicly showing that your organization is committed to positively impacting society can help you build a good reputation as an employer. 
Additionally, your company needs to embrace a DEI focus. More than half of job candidates say that a diverse workforce is paramount when deciding which companies deserve their applications. Your employer brand should reflect your commitment to DEI initiatives, and you need to stay true to those commitments to attract the best passive candidates. Next, let us understand how to consult passive candidates.
Learn to Consult Candidates
Recruiters are not just "job salespeople." They are consultants. Since most of the best candidates are not outwardly looking for a new role, it's the recruiter's job to learn about their skills, experience, and goals to see if there is a good fit for them at your company. 
Recruiters need to be great communicators and build relationships with candidates over time to consult effectively. It also requires that they are knowledgeable about current market trends in the industry they are recruiting in. Some important things to consider for each passive candidate are: 
what they like (and don't like) about their current role

 

what they wish they could do more of in their current role

 

their career goals

 

whether or not they are valued fairly at their current company

 

what candidates like them are looking for

 
By taking the time to learn about each candidate, recruiters can develop a strong relationship with them and increase their chances of being interested in your open roles. Finally, you can use a CRM to source candidates.
Use a CRM
If you are constantly engaging passive candidates, it is doubtful that you will remember each of them. A CRM can help you keep track of all the candidates you are speaking to and their contact information, and any notes about the conversation. 
Using this software will help you avoid duplicating your efforts and ensure that you do not forget any potential leads. It also allows you to understand better which passive candidates might be open to new opportunities in the future. 
Finding and hiring passive candidates can seem like a challenge, but the good news is that it doesn't have to be. Using the right software, engaging with prospective employees in the right way, and effectively strategizing can help you source the best talent out there. 
Interested in how Oorwin's AI-driven platform can help you source passive candidates? Schedule a demo today!