With the increase in the number of active job seekers on a daily basis, the need for automated quick ways of hiring has increased profusely. Job boards are the go-to market strategy of every candidate and Naukri is one of the most popular job boards in today's market. However, the recruiters often have to switch between their ATS and Naukri to fetch the candidate profiles. So, what if, your ATS integration with Naukri was successful and you didn't have to switch between both of them?
To resolve this issue, Oorwin is proud to announce a partnership with Naukri—India's largest job board with over 75K+ jobs listed.
In, this article on Oorwin's ATS Integration with Naukri will talk about how you can combine the power of Naukri's rich candidate database with Oorwin's AI-powered candidate search algorithms to find the right talent for your organizations at ease.  The following topics would be covered in this article:

Oorwin's integration with Naukri gives you immediate access to 10,000+ jobs in 19+ countries and many active job seekers with whom you can engage, in an easy and quick manner. So, let us move forward with this article and understand how to set up Oorwin's ATS with Naukri.
Setup Oorwin ATS with Naukri
To setup Naukri on Oorwin ATS, follow the below steps:
Click on the Marketplace icon on the left navigation bar -> Uncheck All -> Select Job Boards -> Click on the 3 dots near Naukri's logo -> Click on Configure.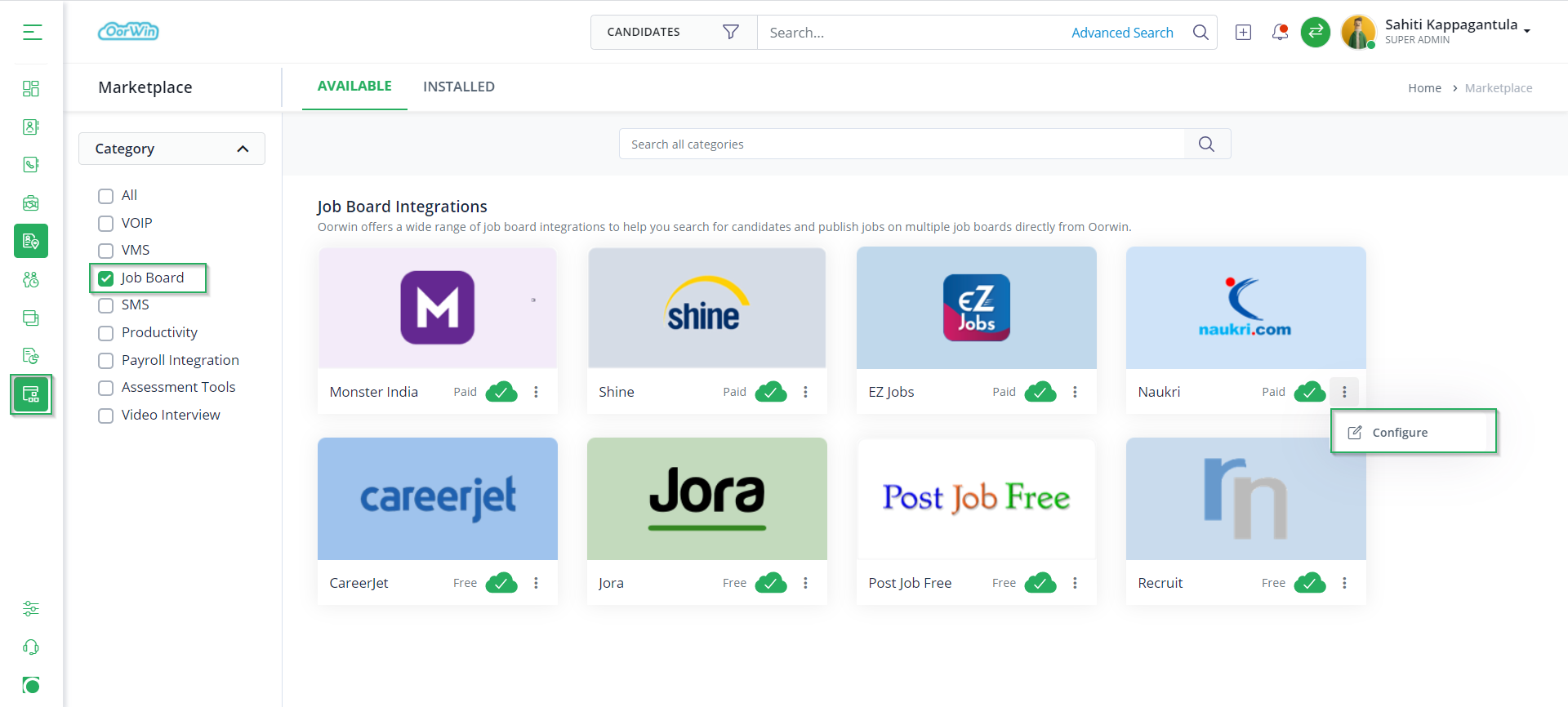 Click on the Accounts tab and then click on Add Account. Refer below: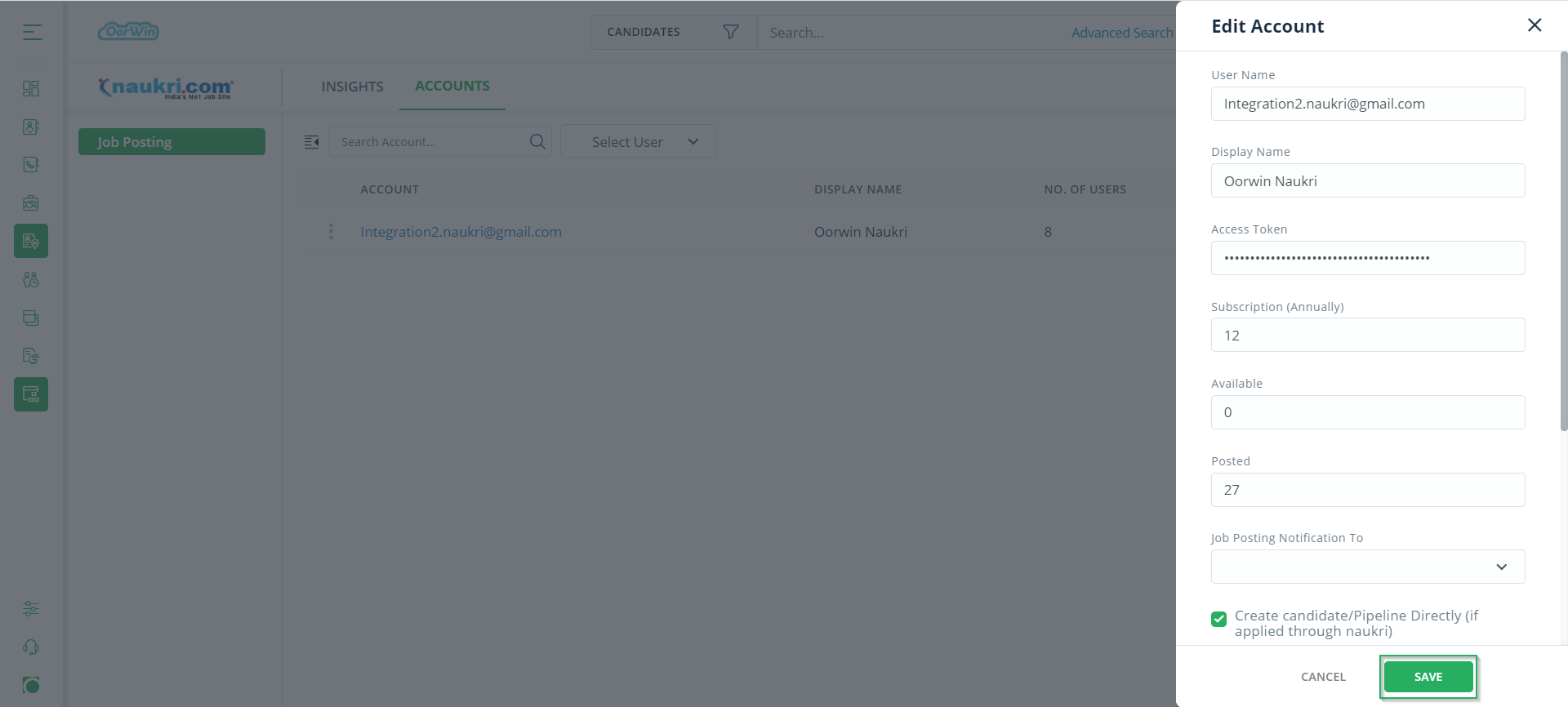 Once you have added your Naukri account to Oorwin, you can then add the users that you want to be able to allot credits to recruiters for a job posting and replenish the credits daily, weekly, or monthly. Next, in this article on  Oorwin ATS integration with Naukri, let us look into the features you will get with Naukri added to your Oorwin account.
Oorwin ATS integration with Naukri Features
The following are the features you will get access to, on integrating Oorwin ATS with Naukri.
Publishing Jobs
You will be able to publish the jobs in Naukri directly from Oorwin's portal just like any other job portal integration in our system.  You will also be able to see the details of the job posting from the jobs board's dashboard.
Refreshing Jobs
You will be able to refresh the jobs in the Naukri portal to update the "Last Updated Date and time" with a single click of a button from the portal.
Deleting Jobs
You will be able to delete the published jobs with a single click of a button from the jobs page in Oorwin and from the published jobs dashboard to the Naukri portal.
Candidates Resume
You can automatically pull out the resumes of the candidates who applied in Naukri into Oorwin for the specific jobs that are published from Oorwin.
Publish jobs in Naukri
Publishing jobs on Naukri has never been easier. Oorwin lets you publish jobs directly on Naukri with just a single click. Let us see how you can achieve the same:
To publish a job you have to create a Job and then click on Publish in the jobs module. Once you click on Publish, you will see Naukri's logo.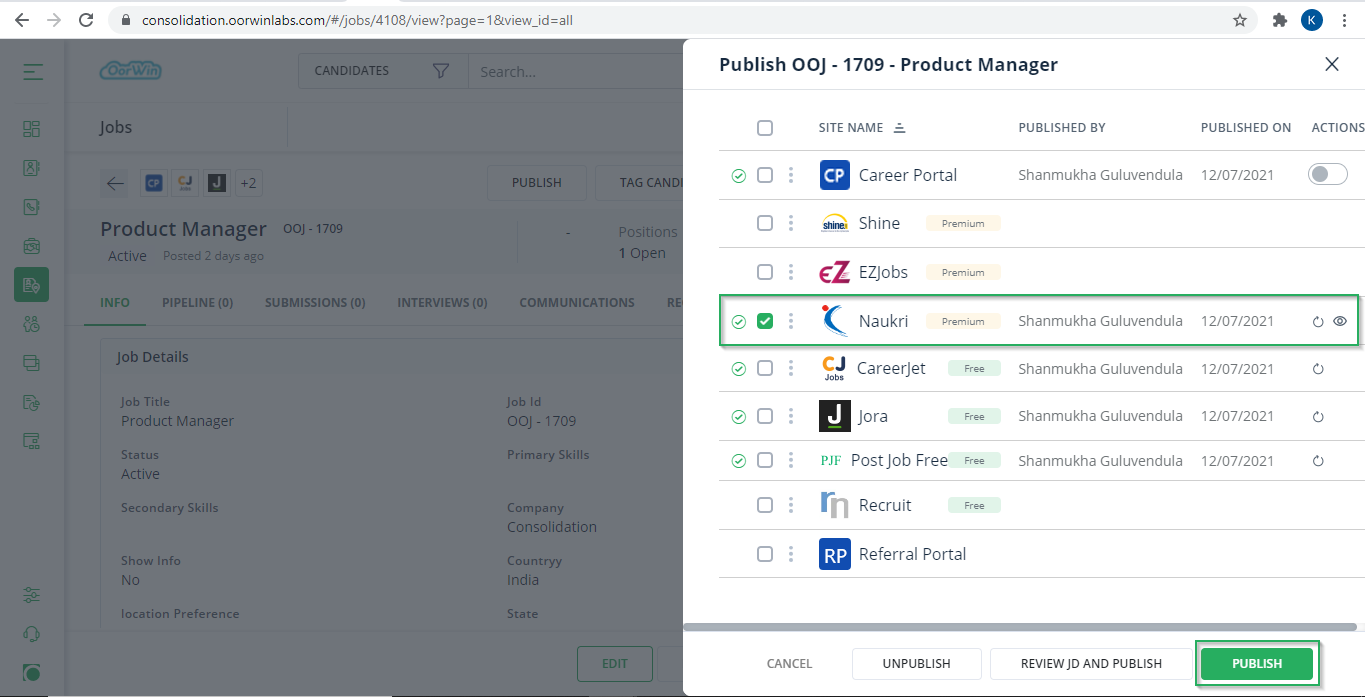 Note: To post jobs on Naukri, kindly mention the skills, location, work experience, UG course, and role details so as to successfully parse the job details.
Refresh and Delete jobs
To refresh a job you can click on the arrow mark on the right-hand side of Naukri's logo. Similarly to delete a job, you can click on the Unpublish button as shown below.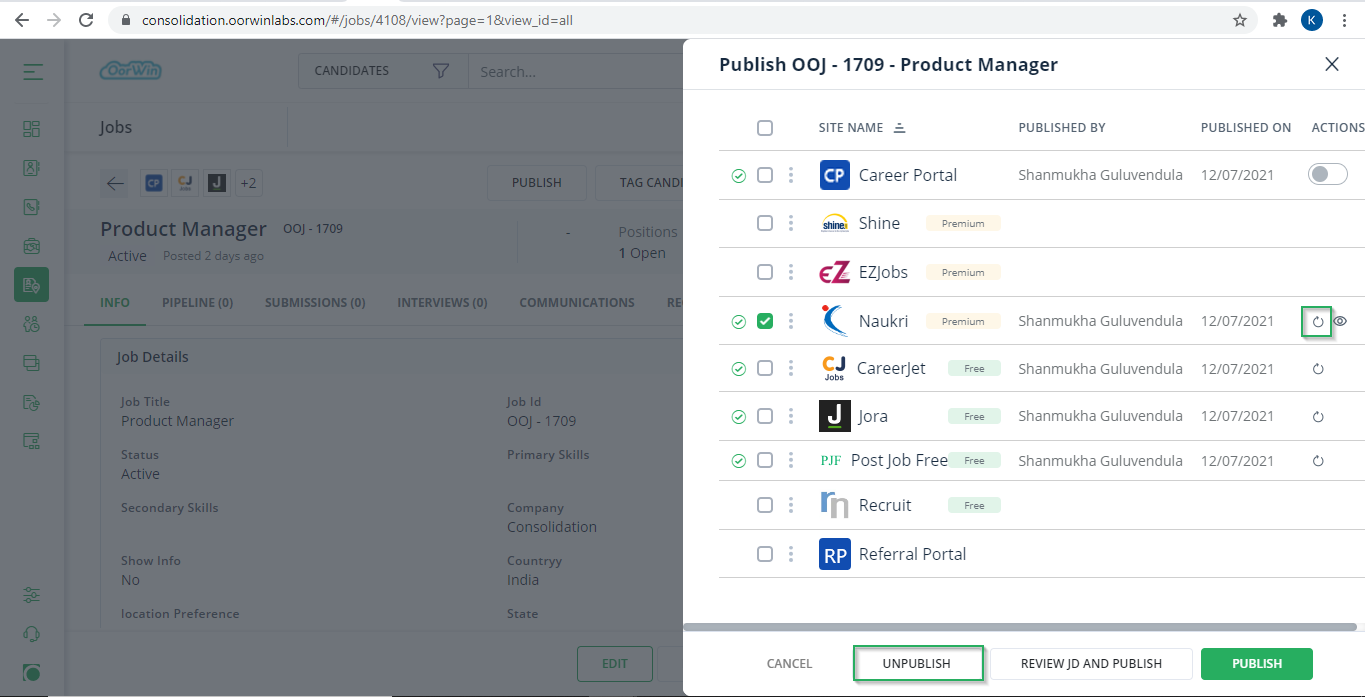 With this, we come to an end to this article on Oorwin's ATS integration with Naukri. So, if you are interested to know more about Oorwin's ATS, take a product tour today or contact us on +91-8977801805 / USA: +1877-766-7946 to talk to our product advisors.