Back
Benefits of Using an Applicant Tracking System Software
5min read / 14 Dec 2020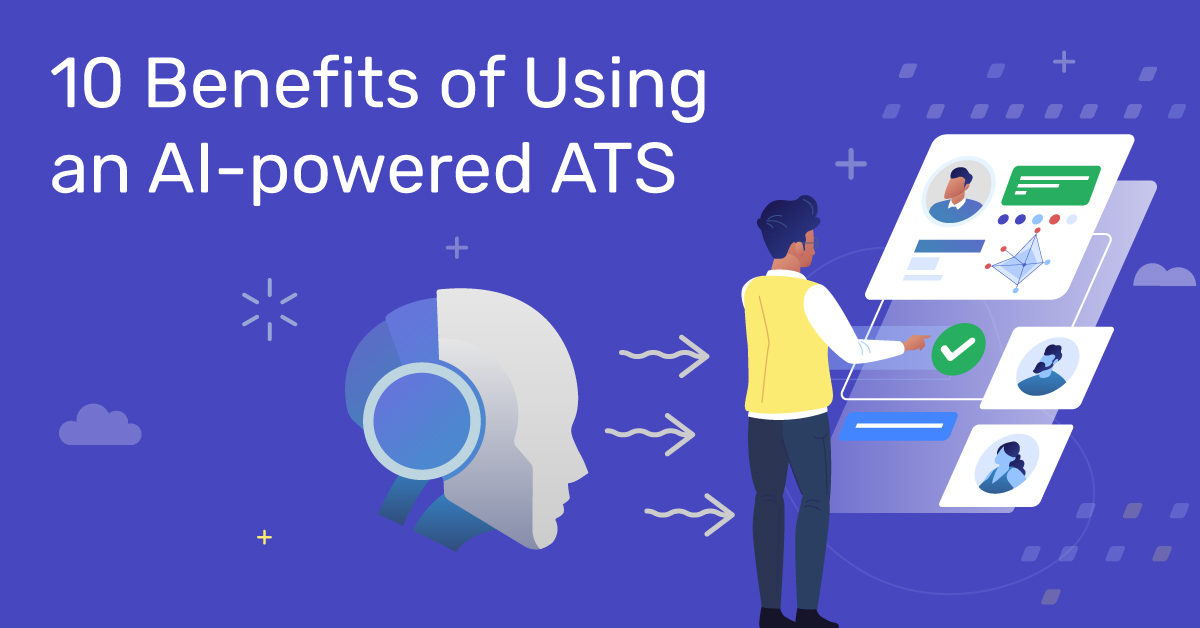 Discover how a truly modern, AI-powered Applicant Tracking System can help businesses achieve a competitive advantage in the fast-paced staffing industry.
In the rapidly transforming staffing industry landscape, automated solutions are necessary for any organization to stay ahead of the curve.  This is especially true for the tedious and time-consuming process of recruiting candidates. 
An Applicant Tracking System (ATS) is an easy-to-use software that helps recruiters find and hire candidates in an organized way. The main purpose of a truly modern ATS is to make the entire recruitment process efficient by filtering, ranking, and suggesting candidates. The ATS also offers actionable insights using intelligent algorithms.
In this blog, we offer a deeper understanding of the various functions of an ATS. We will explore the most crucial features of a modern ATS, its top advantages, and understand how it helps businesses achieve a competitive advantage. We will also explore why an AI-powered ATS can be immensely beneficial for your staffing business.
What is an Applicant Tracking System?
An Applicant Tracking System (ATS) is software that manages the entire recruitment process of a company and helps speed it up by providing effective, time-saving tools. In short, it helps companies, hiring managers, and recruiters quickly reach, attract, identify, and hire the best candidates. 
An ATS typically handles tasks such as posting jobs, storing applicant data, and screening applications. A modern ATS, however, goes beyond the basic functionality to offer actionable insights to recruiters and helps them track and rate applicants. An ATS also brings your entire recruitment team on one page with a unified database so the whole team can easily collaborate. 
Benefits of using an Applicant Tracking System
Save Time
An ATS software reduces the time spent with administrative tasks, saving your recruiters time for other important tasks. It does all the work such as publishing open positions on job boards and social sites, sending follow-up emails, and organizing resumes and applications only in a few clicks. 
It tracks candidate responses and it even sends reminders so you can save a huge amount of time and get a better picture of all the candidates on one, easy-to-use dashboard.
Reduce Hiring Costs
By reducing the time spent with administration and management and automating the most time-consuming tasks, an ATS can be a highly cost-effective solution for staffing companies looking to streamline the recruitment process.
With a modern ATS by their side, recruiters can focus their energy on more high-value tasks rather than spending hours in zero-value processes like adding or updating resumes, manually sifting through hundreds of profiles to find the right candidates, and publishing jobs on various job boards. 
Improve Review Process 
Filtering out applications and analyzing resumes to hunt the right candidates is a hectic and sometimes messy process. 
Applicant Tracking Systems provide the recruitment teams with simple tools to automate steps like screening, filtering, ranking candidates. 
An intelligent, AI-powered ATS automatically parses CVs you receive, ranks the candidates automatically based on your criteria and presents candidate data in a transparent way that makes comparisons fast and simple. 
Finally, an ATS eliminates a huge amount of paperwork making recruiting not only convenient but also environmentally friendly. 
Improve Application Process
Since it provides a step-by-step guide to all the candidates from presenting the role itself to attaching resumes, portfolios, and other additional documents, it enables applicants to apply quickly and easily. 
The process and the platform give a determining impression of the company and it almost functions as virtual assistance where all the questions get answered without having to write emails addressed to the recruitment team.
Enhance Collaboration Between Recruitment Team Members
Using one single recruitment software highly improves communication and collaboration between team members. Team members and managers involved in the recruitment process can add notes, ask questions, mark details, and track everything about applicants. 
It saves the time spent with meetings and it provides clear communication, so every member has the same amount of information on the possible and potential candidates. It also helps in managing tasks, scheduling, and preparing for personal interviews.
Reports and Actionable Analytics 
An AI-powered ATS software generates data-backed reports and customized analytics to help to hire managers and recruiters easily monitor the whole recruitment process. It provides data such as the effectiveness or a job posting, the click-through rates and engagements, or even the demographics and main characteristics of the applicants to optimize further procedures and steps. 
It's an excellent tool to help businesses understand the market and improve their progress to maximize the returns of their invested energy, money, and time.
Improve the Quality of Hire
Powered by the latest advancements in technology, an ATS can offer the best candidates for any given job by comparing hundreds and thousands of CVs. An AI-powered ATS can use semantic search algorithms to make sure no candidate is overlooked and that you always make the best placement decisions.
An ATS not only has a positive effect on the first steps of the application process, but it improves the quality of the whole by being a professional and reliable platform.
By using an ATS software, a well-prepared and communicated interview is guaranteed. It provides a calendar for candidates to choose the most convenient time for an interview and it sends out a pre-written agenda to help both parties prepare for it. It makes the process smoother and much more professional than sending emails and scheduling candidates manually.
Robust Resume Storage
Applicant Tracking Systems are a great tool to store and access resumes. The data and application of candidates are easily accessible and can be analyzed for better decision making. 
An ATS can help you track applications easily with rich filters. It saves time and gives companies the possibility to reach a bigger number of potential candidates besides easily publishing open positions on job sites and social media.
One-Click Job Posting
By posting the open job description and the possibility to join the company as an employee, the possibility of reaching and hiring the right candidate is bigger. But selecting the platforms and following the registration process of each site is not only time-consuming but also chaotic. 
An ATS system helps to share the job ad on every social site and many additional job-seeking platforms just by one click. A consistent and branded job posting is provided across each site and the company's own website. 
Increase Employer Branding
One of the best features of Applicant Tracking Systems is that they can be personalized and designed to be coherent with the brand identity. Logos, photos, videos, and personal toned paragraphs can be added, which help to present a site that is corresponding with the company's DNA. 
It's a great tool for employer branding to show people the values of the business and inspire them to work with them. Besides that, it can be designed to be an integral part of the official website of the company.
Why invest in an ATS software?
The undeniable benefits of using an ATS not only saves time and money during the overall recruiting process but puts your company in a position where you can stay ahead of the curve and reach your objectives. 
You'll be delivering value to your recruiters and help them make better hires in lesser time. It provides a smooth and convenient experience for both candidates and the recruiters.
Advantages of an Applicant Tracking System
Learning how to use the features and maximizing the opportunities provided by an ATS system can smoothen the application process and help companies in many ways. The tops benefits of an ATS include: 
Speed up processes

Improve quality of hire

Better decision making with data analytics and reports

Easy communication between recruiters and candidates

A positive experience for applicants and simplified application process
Features of a modern Applicant Tracking System
To make the hiring process easier and more efficient for hiring managers and recruiters, the following features should be offered by any ATS systems:
Automated resume screening and parsing

One-click posting to social media platforms and job boards

Detailed reports and analytics

Integration with other business softwares like CRM, VMS, HRMS etc

Interview scheduling features

Email templates for automatization

A user-friendly site and transparent database for applicants

The possibility to collaborate and communicate with team members
ATS systems are designed and developed to help improve the hiring process for companies and organizations of any size. It can be personalized and branded in order to follow the values and styles of any business while making the whole recruitment process more efficient and provide a great experience for recruiters and candidates. 
It might sound a little too impersonal, since human interaction is eliminated in the first steps of the whole process. But, in fact, an AI-powered, intelligent ATS helps you find the right candidates in less time while maximizing the effectiveness of the recruitment period.
Oorwin's AI-powered ATS
Oorwin's remote-ready, AI-enabled ATS offers you all the above features and much, much more to give your recruiters a huge leg-up in finding the right candidates fast using cutting-edge semantic search and AI-powered candidate matching.
With hundreds of satisfied customers across US, UK, Singapore and India, Oorwin ATS offers a host of unique, state-of-the-art features to give your staffing business an edge over competitors.
Want to give Oorwin ATS a try? You can request the Oorwin product tour.
Popular Articles..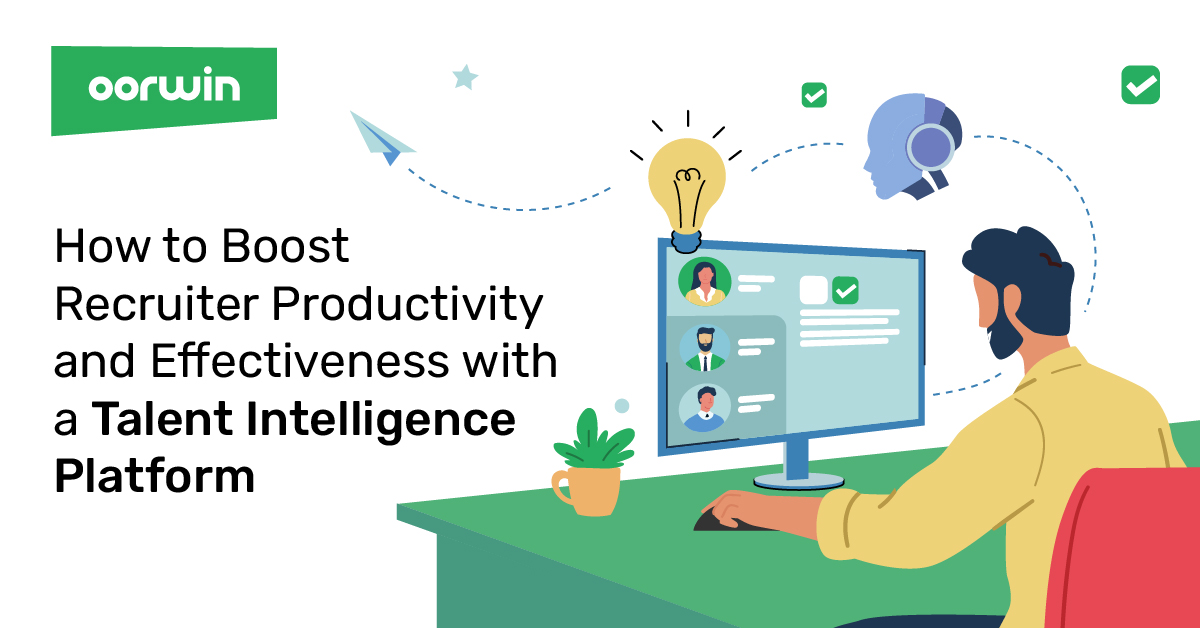 5min read / 3-Aug-2022
Get the latest Oorwin releases, updates, success stories & industry news
delivered to your inbox.