Back
ATS Integration with Dice: Boost Recruitment by Combining Dice's rich data with Oorwin's AI
1min read / 18 Mar 2021
This article on ATS Integration with Dice will talk about how you can combine the power of Dice's rich candidate data with Oorwin's AI-powered candidate search algorithms to find the best professionals without switching applications.
Oorwin's integration with Dice gives you immediate access to over 2 million technology professionals that you can engage with right from your Oorwin ATS. The integration lets you publish jobs on Dice, quickly find relevant candidates, submit matching profiles for jobs, and add applicants to Oorwin ATS with just a few clicks.
Oorwin's Dice integration helps you find the most active candidates while streamlining your recruiting efforts by removing the need to switch applications or move data between Oorwin and Dice. 
The integration has helped our customers harvest more than 1 million high-quality resumes from Dice without leaving Oorwin. Read on to know more.
Setting up Oorwin ATS integration with Dice
You can start using Dice on Oorwin within minutes by following these steps.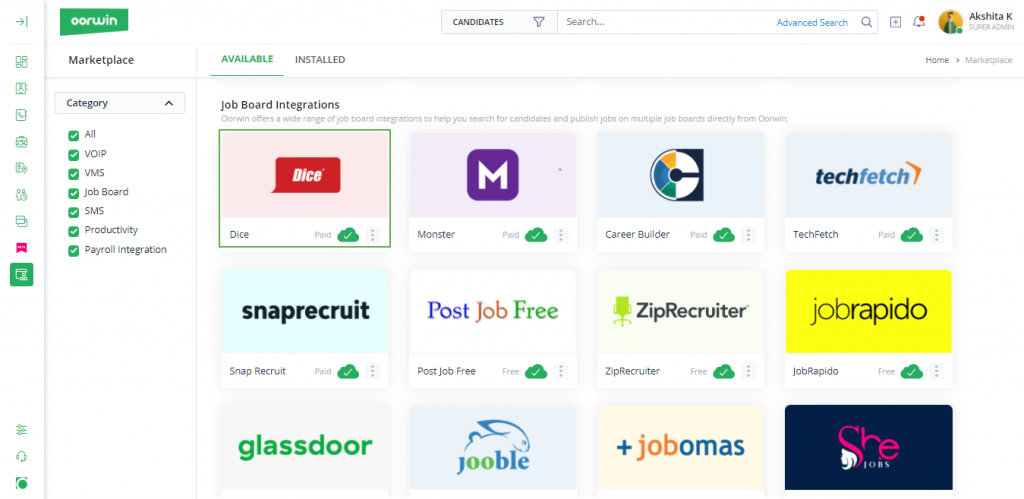 Click on the Marketplace icon on the left navigation bar. Once on the Marketplace page, select Job Boards, and then Dice. Click on the Accounts tab and then on Add Account. Just enter your Dice account credentials and subscription details, click on Save, and you're good to go! 
Once you have added your Dice account to Oorwin. You can then add the users that you want to be able to run resume searches and job postings using the Dice account. You can also allot credits to recruiters for a job posting and resume search, and you can replenish the credits daily, weekly, or monthly.
Searching Dice from Oorwin
You can search for candidates on Dice directly from the Advanced Search on Oorwin. The UI is similar to Dice to keep the experience seamless and to reduce the learning curve for users.
The integration allows you to use Oorwin's Intelligent Candidate Search and Candidate Ranking to get the most of Dice's rich candidate data. 
You can also search for candidates from Dice using any number of keywords and then refine the search results using multiple filters.
Single-click job Publishing
Publishing jobs on Dice has never been easier. Oorwin lets you publish jobs directly on Dice with just one click.
That's not all, Oorwin automatically updates and refreshes the posted jobs regularly to make sure your job stays relevant and always appears at the top of the results.
You no longer have to visit and log in to Dice to check if you've received any applications for the jobs you posted. Oorwin automatically sends out alerts to the respective recruiters when candidates submit applications for the job-creating a real-time workflow between Oorwin and Dice. 
You can also initiate a conversation with these candidates and request documents using the Oorwin chatbot. This way, your recruiters will get resumes and start screening candidates even when they are away from their computers!
Candidate Resume Parsing
It has been a common practice for recruiters to download resumes and save them on their computers and then re-upload the resumes for different jobs.
Oorwin's Dice integration allows you to create a candidate on the Oorwin ATS with just one click using the candidate profile and resume from Dice. 
You can also parse multiple candidates' resumes in a matter of seconds and without having to switch applications. You can store the candidate information in Oorwin for future use without having to download the resume from Dice again. 
The Oorwin Advantage
Gone are the days of logging into multiple applications and moving data between them. Oorwin's Dice integration lets you use Dice without having to log into your Dice account each time. Just enter your credentials once, and you're good to go.
Along with a one-time sign-on from Oorwin, you can set up multiple users who can use the Dice account once configured to avoid procuring multiple licenses.
The integration boosts recruiter productivity by allowing one-click creation of candidate records from Dice and parsing of multiple candidate records in a matter of seconds. You can also add candidates to a Pipeline or submit a candidate for a job with just a few clicks.
Lastly, Oorwin helps you track the success of all your activity on Dice with reports and insights on jobs posted, candidates sourced, recruitment source success, recruiter and team-specific metrics, etc.
Want to give Oorwin a try?  Click here to request an Oorwin product tour.
Popular Articles..
Get the latest Oorwin releases, updates, success stories & industry news
delivered to your inbox.