Back
How to Automate Resume Harvesting and Candidate Sourcing from LinkedIn
4min read / 4 Jan 2021
In recent years, LinkedIn has become the social media platform of choice among employees and employers alike. As more employees flock to the platform, LinkedIn is playing an increasingly important role in recruitment processes. While it is well known that recruiters spend a majority of their time sifting through candidate resumes on multiple job boards, more recruiters are now finding and hiring talent from LinkedIn. This has made automated resume harvesting from LinkedIn a must-have for any recruiter. 
Automate Resume Harvesting and Candidate Sourcing from LinkedIn
In line with our mission to help recruiters and staffing businesses boost productivity, Oorwin ATS now lets you automatically harvest resumes from LinkedIn. That's not all. You can also use our first-of-its-kind contact details fetching feature to quickly find the email IDs and phone numbers of the candidates you are interested in. Let us move forward with this article on automated resume harvesting and contact fetching from LinkedIn.
LinkedIn Resume Harvesting
To harvest resumes from LinkedIn, simply head to the job page on Oorwin ATS and click on Resume Harvesting and then click on schedule. Alternatively, you can click on the Advanced Search button at the top of the Oorwin homepage and get to the resume harvester page from there. This opens up the resume harvester page in a new window or tab. 
Once on the resume harvesting page, you can then select LinkedIn from the harvest source list, set the criteria for your candidate search, and then click on Find Candidates.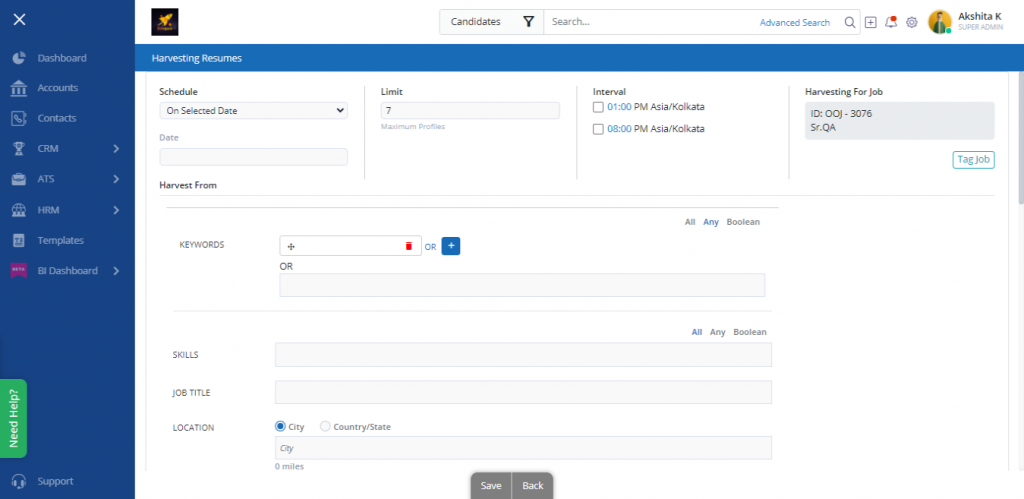 You can further refine your search criteria by clicking on 'Advanced Search' and adding details including keywords, skills, job title, location, employment type, work authorization, etc. to make sure you always find the best candidates. 
The shortlisted candidates will be directly added to the job pipeline so your recruiters can quickly go through them and pick the candidates that most closely match the requirements. Here's how it works.
This eliminates the need to have multiple tools for resume fetch, contact detail fetch, candidate-job matching, etc. All the information is automatically reconfigured based on fully customizable templates.
Source Candidate Details from LinkedIn
Oorwin ATS goes a step further when it comes to making the entire recruitment process as frictionless as possible. 
Once the candidate has been added to a job pipeline, you can now get contact details for the candidate including email addresses and phone numbers from LinkedIn even if the candidate hasn't made these details public. 
All you need to do is go to the job pipeline page and click on LinkedIn Contact Details Fetch for the particular candidate in the actions column. To use this extremely useful feature, all you need to do is get a few credits and use them to fetch the contact details of any LinkedIn user.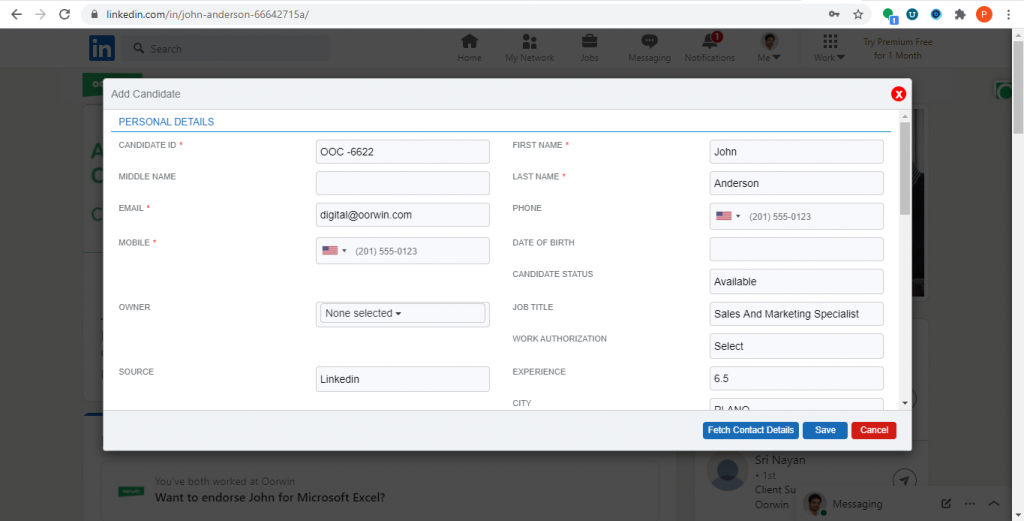 Use Plugins for Instant Resume Harvesting
You can also quickly harvest resumes directly from LinkedIn using Oorwin's plugin for Chrome browser. Once you've installed the Oorwin extension for Google Chrome, you will see the option to harvest or parse the candidate resume directly from their LinkedIn profile. Candidate resumes can also be harvested directly into Oorwin simply by clicking the Submit button on the Oorwin panel for the Chrome browser.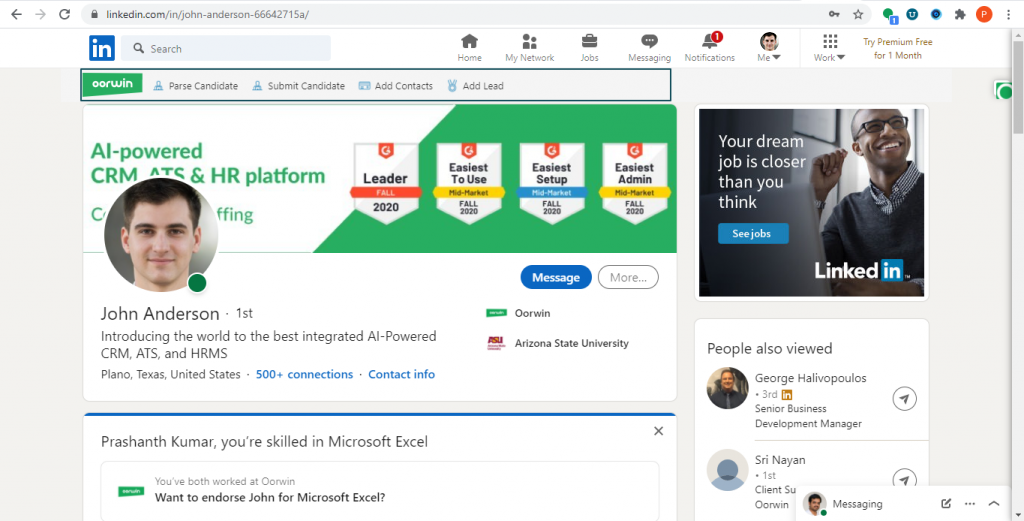 Boost recruiter productivity, increase candidate engagement and improve hire quality with Oorwin's automated resume harvesting and candidate sourcing from LinkedIn. Want to give Oorwin ATS a try? – Oorwin product tour
Popular Articles..
Get the latest Oorwin releases, updates, success stories & industry news
delivered to your inbox.