Back
Recruiting is the lifeblood of any staffing organization. It is therefore critical for any staffing business to develop a strategy to consistently attract and retain quality talent while ensuring maximum resource utilization. One of the most effective ways of increasing profitability and staying ahead of the curve is by designing a strategy around the recruitment life cycle.
As such, any effective staffing strategy must include sales, recruitment, and human resource management processes. 
Now, let us take a deep dive into what a recruitment life cycle is and learn how you can leverage it to achieve your business goals.
What is the Recruitment Life Cycle?
The recruitment life cycle is the process that begins with a need or requirement for a candidate and ends when the candidate is successfully hired or placed. It encompasses everything from that first moment that you decide you need a new employee to the process of onboarding your new hire.  
Once we reach the end of the cycle, it starts all over again. This allows your to systematize your hiring process. It also lets you constantly tweak your recruitment process so that you are making fewer mistakes and hiring increasingly outstanding employees. 
The recruitment life cycle is helpful for hiring every single employee. Whether you are looking for part-time employees in your customer service department or your next CEO, this process can maximize your odds of finding that outstanding employee. 
6 Stages of the Recruitment Life Cycle
Now, let's take an in-depth look at the six stages of the recruitment life cycle. No one stage is more important than the other. Rather, they all work together to help you find and hire great employees. 
When describing these stages, we are going to discuss them in the context of a company trying to fill one open position. That said, you can apply this same process if you are trying to fit multiple positions.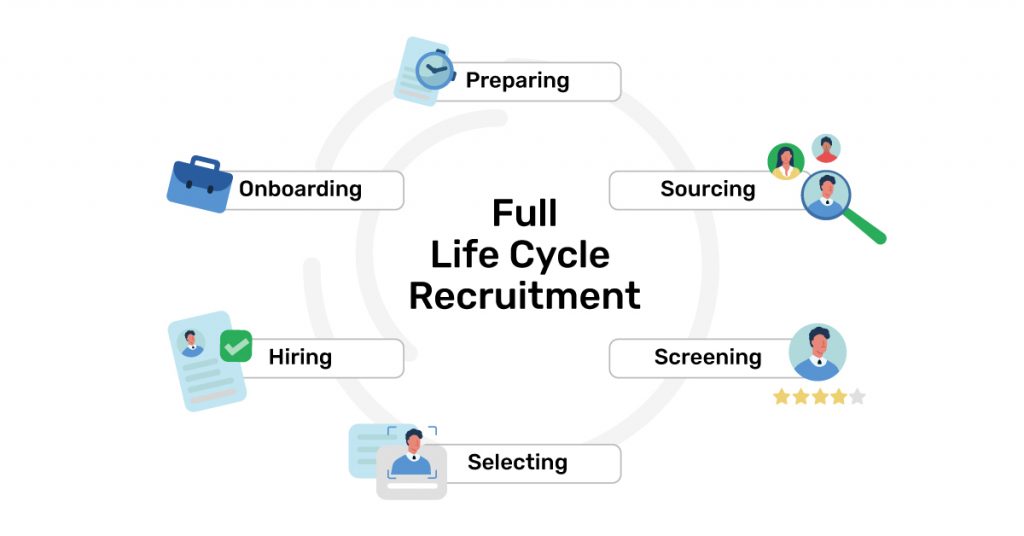 Recruitment Process Step 1 – Preparation
The first stage of the recruitment process is preparation. In this stage, you are defining the ideal candidate and preparing your search for that ideal candidate. There are plenty of factors that you will want to likely consider.
For one thing, you and your team will need to settle on the skills, education, and experience that are desired for that open position. While this may seem obvious on the surface, it's important to sit down with your team and agree on the specifics.
Along with these "hard" skills and experiences, you may also be looking for "soft" factors. These can include personal characteristics and other factors that fit in with your company's culture. Once you have settled on these qualities, you'll want to write a job description that clearly outlines these requirements.
 Recruitment Process Step 2 – Sourcing
Next is the sourcing stage. Here, you will want to be searching for both active and passive candidates. Candidates can come from anywhere, so you'll definitely want to cast a wide net.
Some of the places where you can source candidates include your website, social media websites (like LinkedIn), and job boards. Employee referrals are also an outstanding source of potential hires. 
 Recruitment Process Step 3 – Screening
The third stage is screening. This occurs when you have sourced a large number of applicants. You and your team will go through the applicants' resumes to determine which candidates are qualified.
If you are interested in any applicants, you will likely schedule in-person or phone interviews. While this stage in the recruitment process can be lengthy, it's important to be patient and add promising candidates to your shortlist.
 Recruitment Process Step 4 – Selecting
Selecting is the fourth stage. This is when you actually interview the candidates. It's important to remember that a candidate's CV only reveals so much. You'll want to ask detailed questions about the candidate's experience, skills, and knowledge about your company.
Behavioral interview questions can also be insightful. Finally, depending on the position, you may need to conduct reference checks or formal background checks.
 Recruitment Process Step 5 – Hiring
The fifth stage is hiring. At this stage in the recruitment process, you'll choose the qualified candidate that you want to hire. While this can be difficult, it's important that you make the decision based on the role you are hiring for.
Once you have made your selection, you will submit a formal offer letter to your candidate. You should also be willing to answer any questions the candidate has before he or she accepts the offer.
 Recruitment Process Step 6 – Onboarding
Finally, onboarding is the sixth stage. Upon the candidate accepting your offer, you will want to start familiarizing him or her with your organization.
This may include everything from a formal orientation and mandatory training programs to an organized lunch with the new hire and their colleagues. Don't slack on this stage, as it is extremely important to the future success of your new hire.
Tools to Manage the Recruitment Life Cycle

With this background in mind, let's talk about some helpful tools that can help you manage the recruitment life cycle. You may already have some of these tools in your workflow.

If so, that's great! You can supplement those tools with others mentioned below. If not, we recommend that you implement the following tools to help you with your work.
To start, you'll want to invest in a high-quality Applicant Tracking System (ATS). ATS is a helpful tool that can help you manage every part of your recruiting process. For instance, you can easily search through candidates in your database and easily communicate with large groups of applicants. Investing in an ATS is a fabulous idea.
Next, think about investing in candidate search engines. This is more of an active way to find potential candidates in the marketplace. No matter the position that you are trying to fill, these candidate search engines can help you find interesting candidates. From there, you can reach out to those candidates directly.
From there, you'll want to familiarize yourself with job search engines. Job search engines like Indeed can be great platforms to post your open positions. While we don't necessarily recommend one job search engine or another, we encourage you to experiment with them. You may find your next great hire from one of these platforms.
Finally, seriously consider creating an internal employee referral system. Studies show that some of the best hires come from referrals from current employees. You can also leverage this benefit—so long as you work to create a referral incentive system. Incentives can be everything from bonuses to some other non-monetary incentive.  – Check G2Crowd top recruitment tools here.
Leveraging the Recruitment Life Cycle
The recruitment life cycle represents just one part of the staffing business. 
As you likely know, most staffing companies have resource pools with a set of skills, experience, qualifications, etc. Each day that a resource pool candidate spends on the bench, the staffing business loses money.
To ensure full utilization of the source pool, staffing companies must track employee performance, skill shortages, and industry trends.
Staffing businesses need to deploy emerging technologies such as artificial intelligence (AI) that can help them stay competitive and ahead of the curve by offering timely, accurate, and data-backed insights on hiring trends, bench management, skills shortages, and employee performance.
Ultimately, when the recruiting life cycle is effectively dovetailed into your staffing business, it can go a long way in accomplishing all of your strategic goals.
The recruitment life cycle is an essential component of any staffing business. No matter the size of your business, we encourage you to leverage the recruiting life cycle in your day-to-day work. By doing this, you can substantially increase your chances of accomplishing all of your strategic staffing goals.
Oorwin to the Rescue
With an integrated approach to the staffing business, Oorwin helps you maximize profitability effectively dovetailing sales, recruitment, and HR processes.
Popular Articles..
Get the latest Oorwin releases, updates, success stories & industry news
delivered to your inbox.