Back
Social media is a great way to interact with friends and family. But it is also a valuable recruiting tool. In fact, 92% of employers comb through social platforms to find new employees. As social media platforms have become more popular for recruitment, recruiters are finding it an effective way to get their jobs in front of more candidates. This allows them to explore new recruitment avenues.
Are you ready to get social? Let's look at the power of social recruiting,  and discover how leveraging a talent intelligence platform can take your social recruitment efforts to the next level. 
What is Social Recruiting?
Social recruiting is the process of sourcing or recruiting candidates through social media platforms like Facebook, Twitter, LinkedIn, etc. This talent acquisition strategy treats social media profiles like talent ads or databases. Social recruiting is also known as social hiring, social recruitment, or social media recruitment. 
In recent years, this modern recruitment strategy has gained popularity among recruiters and job-seekers:
56%

of job seekers and 60% of recruiters use professional social networks. 

62% of job seekers use social media channels to evaluate the employer brand of a company

49% of professionals are following companies on social media with the intent to stay aware of their jobs.
What Are the Benefits of Leveraging Social Media for Recruitment?
Social recruiting is an excellent way to expand your search beyond traditional job boards. Social media's ease of use and popularity also makes it easy for your followers to share open positions with their networks. It also is a great way to increase your company's visibility and emphasize your company culture via photos, videos, or employee interviews. Social recruiting has several other benefits for recruiters: 
It allows you to reach passive candidates who aren't active on job boards. 

You can establish a personal connection with candidates. 

Easily share information about your organization and current job openings. 

Source targeted candidates with lesser cost and faster time when compared to traditional methods (like TV, newspapers, radio ads, etc.). 

Lower your recruiting costs.

Social recruiting is incredibly cost-effective when compared with traditional recruiting methods.
7 Social Recruiting Best Practices
Every company decides on its own social media recruitment strategy based on its employment requirements. But, here are a few best practices that will ensure you are maximizing your social recruiting strategy:  
Make sure to engage with your potential candidates and respond to them in a personalized manner. 

Implement various types of content on different platforms. For example, Instagram is ideal for employer branding videos, while LinkedIn is ideal for polls. 

Highlight company culture through your posts. 

Research where your ideal candidates spend time and energy. What are their hobbies and interests? This will help you relate to candidates and show that you care. 

Encourage your employees to give referrals and share the opportunities in their networks. 

Monitor and optimize your social media platforms regularly. 

Consistently post on social media platforms to engage your potential candidates.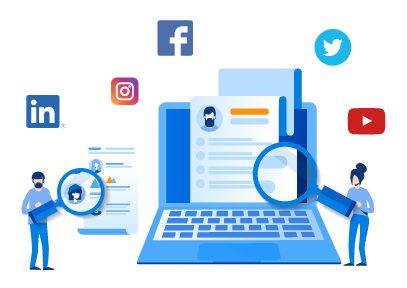 What is the Top Social Media Platform for Recruitment?
There are many social media platforms in today's market. But it is of utmost importance that you choose the right platform to attract job seekers and find the right candidates.
While Twitter, Instagram, and Facebook are great platforms for social recruiting. But career-focused platform LinkedIn is the clear winner. With more than 830 million members and 50 million people searching for open jobs weekly, LinkedIn is a fantastic resource for recruitment.
How can a Talent Intelligence Platform help with social recruiting? 
Artificial intelligence (AI) and machine learning (MI) offer many ways to expedite the recruiting process, including AI-candidate search, resume harvesting, and identifying passive candidates. But a talent intelligence platform can also help with social recruiting. Here's how: 
Easily integrate with LinkedIn

and other social media platforms. 

Advanced search capabilities store and organize candidate contact information from social profiles quickly. 

Automated communication tools to keep candidates in the loop every step of the way.
Learn more about the power of a talent intelligence platform by taking a product tour today or contact us on +91-8977801805 / USA: +1877-766-7946 to talk to our product advisors.
Popular Articles..
Get the latest Oorwin releases, updates, success stories & industry news
delivered to your inbox.