A first-of-its-kind feature, Oorwin's Job Grabber helps you discover opportunities for your resource pool with timely, automated and skill-specific searches to ensure maximum productivity
In these times of uncertainty, it is important that staffing and consulting companies ensure efficient use of their resources and increase revenue by reducing bench time of their resource pool candidates.
Oorwin ATS now offers a unique feature that is first-of-its-kind in the industry. Job Grabber allows recruiters to find jobs for the resource pool and bench candidates from across the web with just a few clicks.
Reduce bench time with Oorwin's Job Grabber
Traditionally, recruiters spend crucial man-hours in grunt work like manually searching for jobs for their candidates on various job boards. With Oorwin's Job Grabber, finding opportunities for your resource pool couldn't get any easier.
Oorwin's Job Grabber has automated job search agents that crawl multiple online job boards including Dice, Monster, Indeed, Google Jobs, etc. to find the best opportunities for your resource pool and workers about to hit the bench.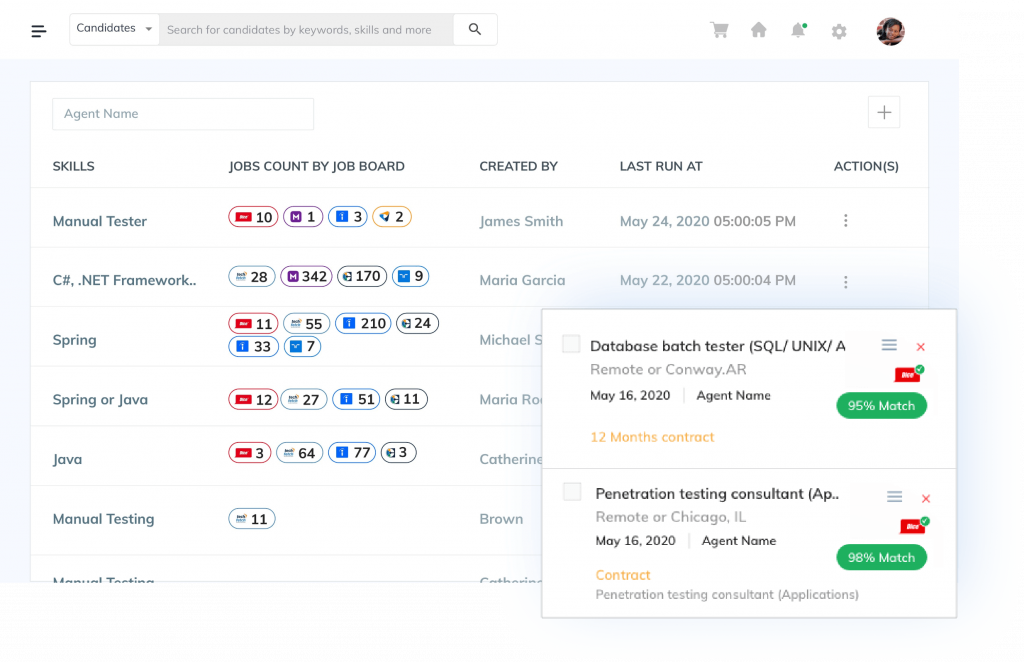 All the recruiters need to do is specify the criteria and let Oorwin's automated search take over.
The job grabber helps in reducing the bench-time significantly and increasing productivity of the resource pool thereby improving the profitability of business.
Our customers have claimed that by using Oorwin's Job Grabber they could reduce Time to Hire by up to 70% and Cost per Hire by up to 60%.
Job Grabber in four simple steps:
Identify resource pool candidates
As Oorwin ATS offers recruiters a 360-degree view of the candidate's availability and timesheet, the recruiter can easily identify candidates who are currently on the bench or are about to finish their assignment.
Set up job sourcing criteria
Once a recruiter has identified the resource pool candidates, they can create automated job searches for these candidates with specific filters including skill set, competency, experience, job post date, work type, location, job boards, clients, etc.
Automate job search
Oorwin's Job Grabber lets you create automated job search agents that can crawl various open-source and paid job boards to find the right jobs for your candidates. You can automate upto 15 such agents with different filters at any given time to match your requirements.
Once the opportunities are identified, Job Grabber maps all the candidates in the resource pool with all the opportunities available for them.
Share job or submit candidate profile
Once an opportunity is identified for a particular candidate, the recruiter can either share the job with the candidate via in-app mail or SMS or even submit the candidate's profile for the job directly, thereby reducing the amount of time and effort exponentially for recruiters.
Maximise your recruiter and resource pool productivity
Finding a job for your resource pool has been a tedious, time consuming task that takes up a majority of the recruiters' time and eats into their productivity.
While it takes any recruiter an average of five to six hours of searching to find the relevant jobs for their resource pool, with Job Grabber, the task can be completed in a few minutes without any manual errors.
The recruiter time can now be utilised for more critical and strategic tasks with the automation of grunt work.
It is these immensely useful functionalities that make Oorwin the go-to platform for staffing and consulting companies.
Want to give Oorwin ATS a try?
You can request a product tour here.
We're constantly working to improve our products and we would love to hear your thoughts. You can reach us at hello@oorwin.com.