Back
Configure Company Details
Manage Company Details
There are certain company specific details that must be configured in the Oorwin portal, once you login to Oorwin for the first time. This helps you to streamline the process of branding, bills, location, email DNS in a single go.  Super admins of every organization  will be able to customize these company specific details, so that all the users under a specific organization account will have certain common features and maintain consistency.
For your better understanding, we have divided the process of configuring your company details in the following categories:
General Details
Branding
Billing Address
Locale Information
Email DNS
Inbox Configuration
So, let's start with the general details you have to configure.
General Details
In this section you have to enter the organization name, website, description, contact info, etc. To do so go to Settings -> click on Company Profile -> click on General Details -> add the necessary details -> click on Save.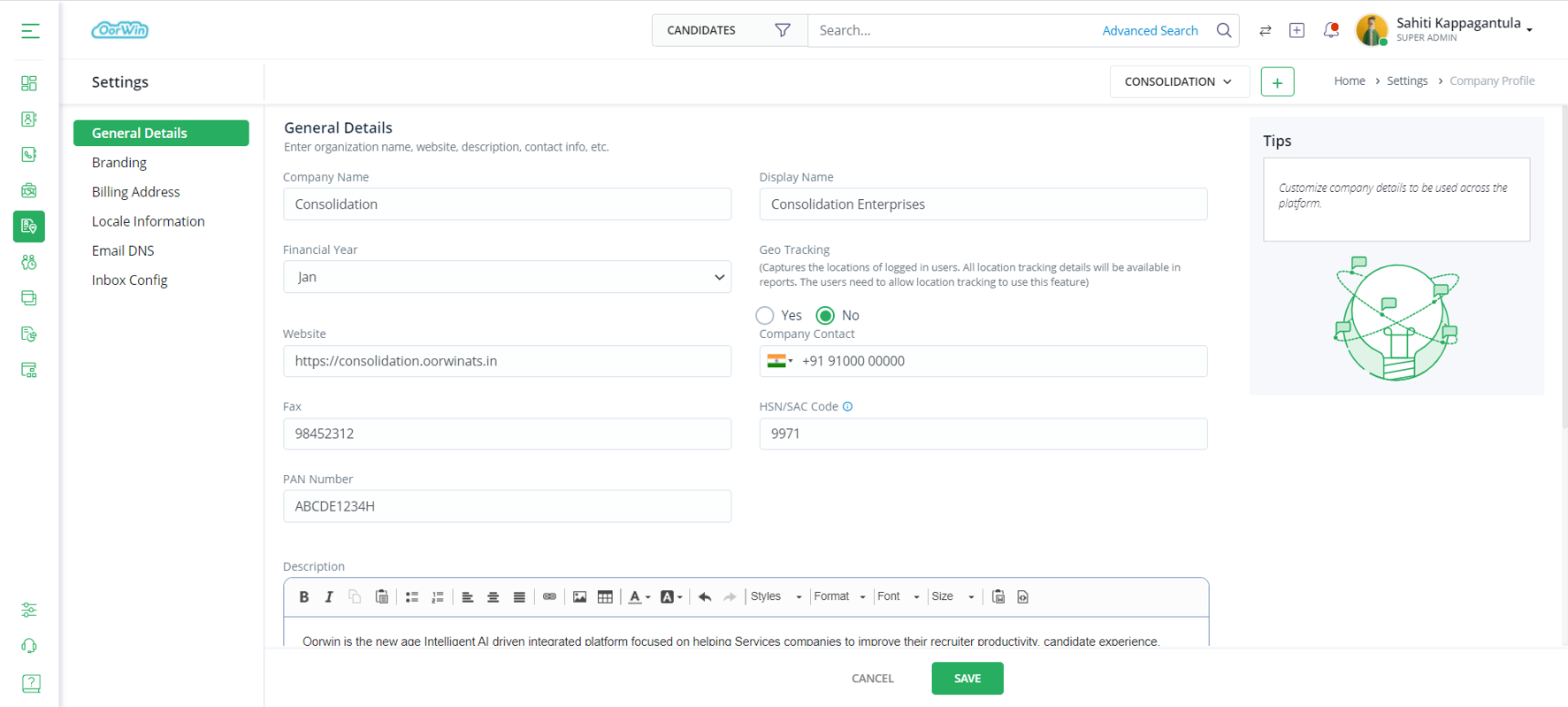 Branding
Branding is an organization specific feature, where you can upload your company logos to be used for branding in the platform.  To do so go to Settings -> click on Company Profile -> click on Branding ->upload company & social logo -> click on Save.
Kindly note that these logos will also be used in mail communications, while publishing jobs in social media and also in job boards.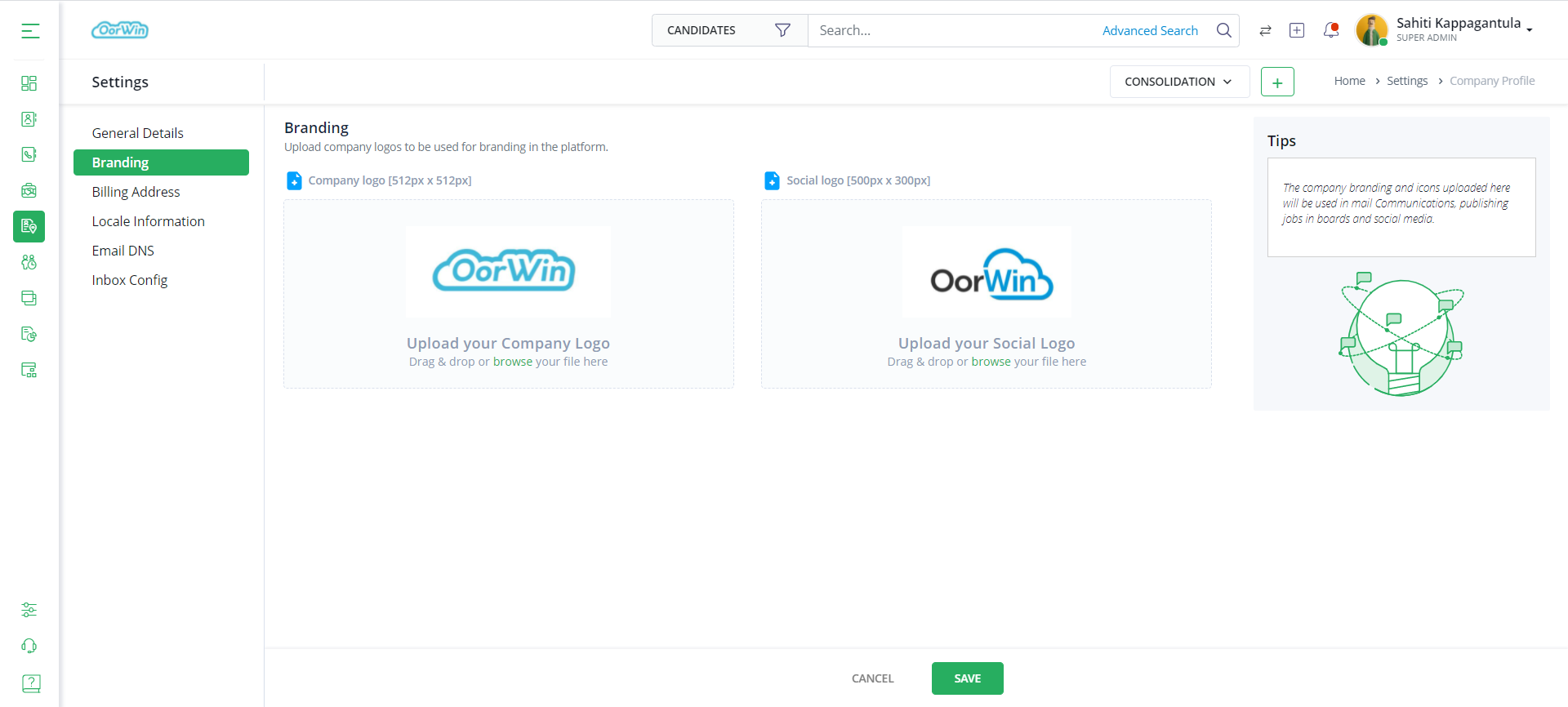 Billing Address
As the name suggests this functionality is used to set up and manage billing details and addresses for invoices. You can set up multiple business subsidiaries with billing details for each one of them. Once set up, you can also issue invoices from various subsidiaries.
So, to do add billing details,  go to Settings -> click on Company Profile -> click on Billing Address -> click on Add Billing Address -> mention the details required -> Click on Add.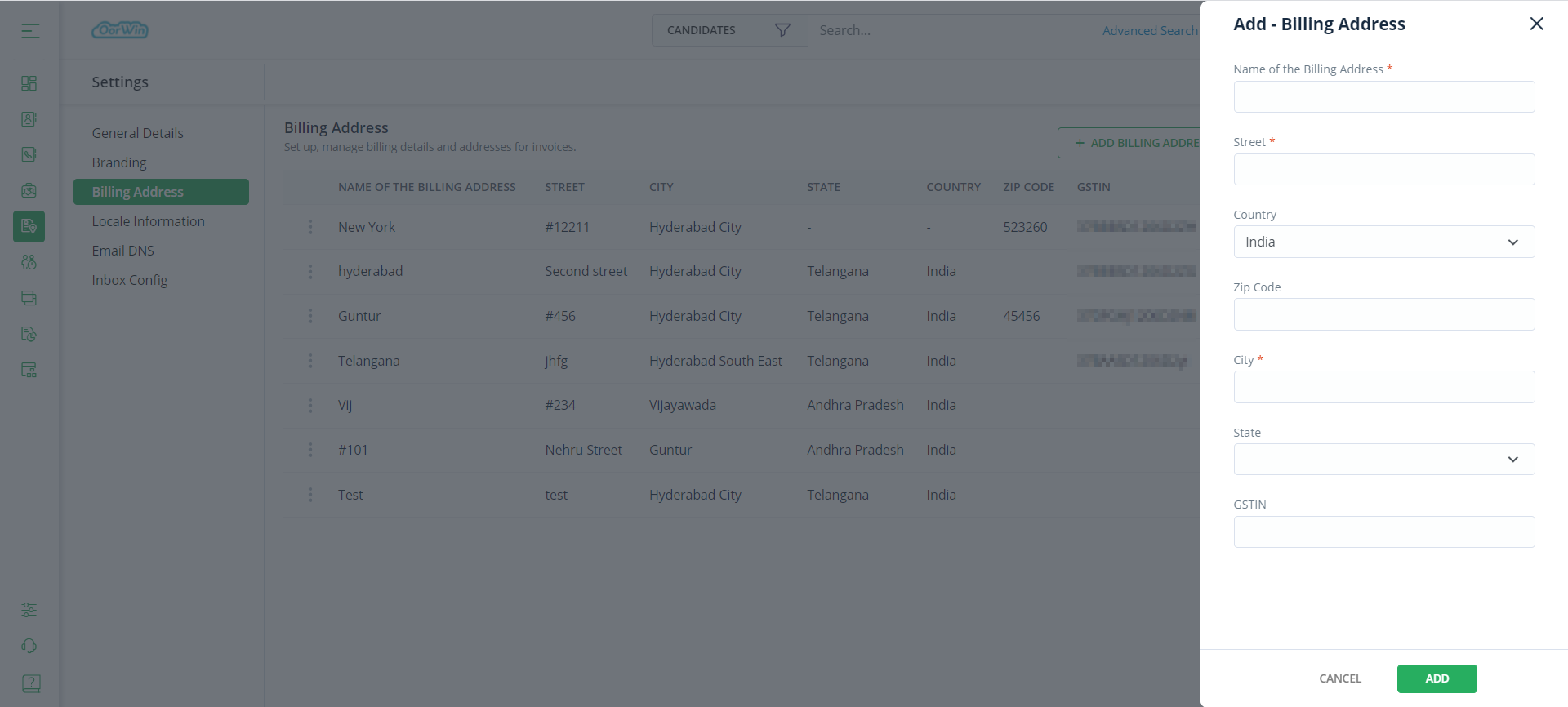 Note: You can also edit/ delete a billing address by clicking on the 3 dots as below.

Locale Information
Here, you can update the country of operations, time zones, and the date format. These details will be  reflected throughout the application. Please note that the country of operation cannot be changed once configured in sign up.
So, to configure the same, you have to go to Settings -> click on Company Profile -> click on Locale Information -> give the required details -> click on Save.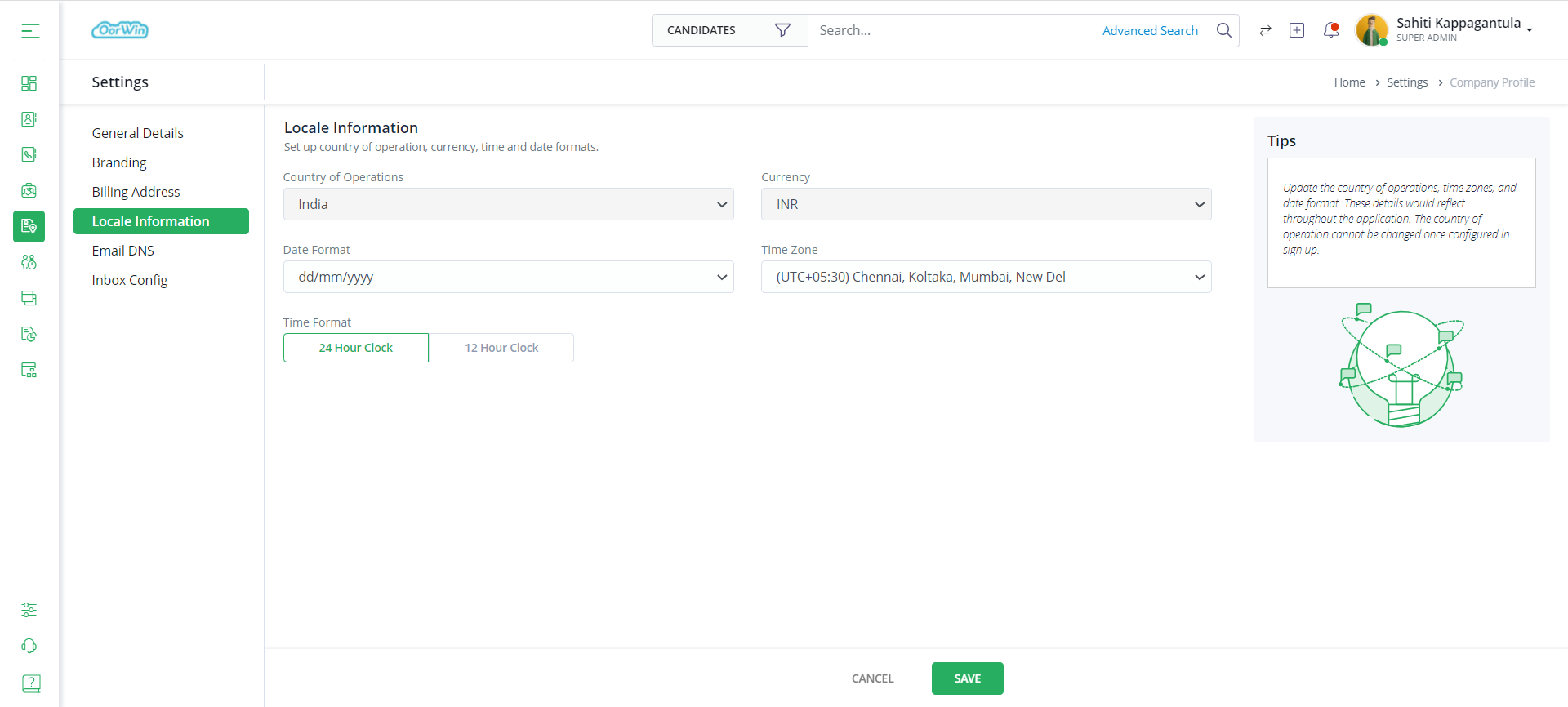 Email DNS
In this section, you will have an option to customize your email communications, by allowing you to send and receive emails from your company domain with email DNS. To customize your email DNS, you have to go to Settings -> click on Company Profile -> click on Email DNS -> and follow the below steps to add the domain:
Enter notify.yourmaildomain.com and click on update.
Create a DNS (Type) record on your domain with the DNS details present on the screen.
Click on Verify once details are updated on your domain.
A green tick will be visible for verified records and all records must be verified.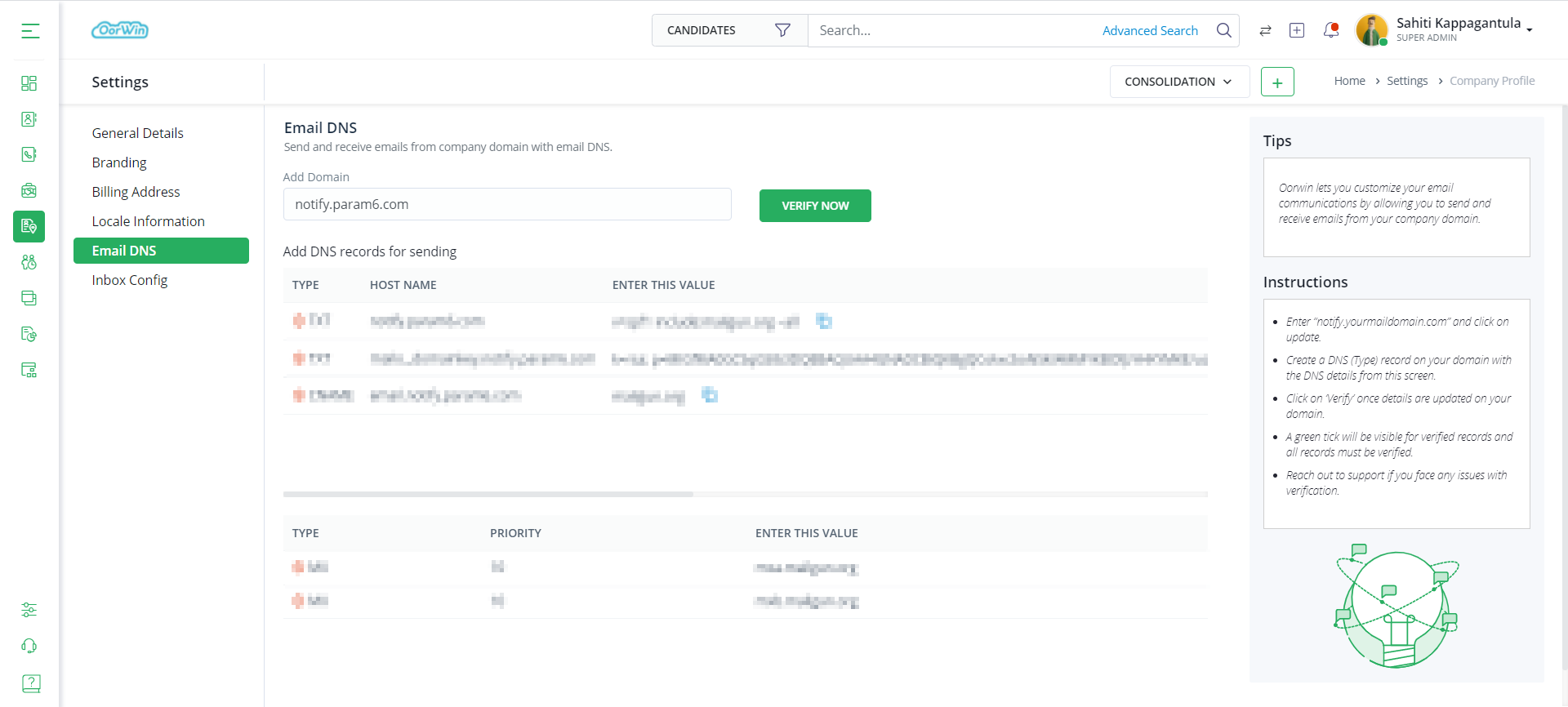 Inbox Configuration
Setup resume and job forwarding email addresses in this section as Oorwin lets you parse jobs and resume simply by forwarding them to pre-defined email addresses. With this feature you can:
Forward resumes to 'Resume Inbox' to parse them and to create candidate records
Allow non-Oorwin users to forward the resumes to this email to parse the resumes
Customize the email for non-Oorwin users by updating 'Resume forwarding email'
Parse the job information from the emails forwarded to the 'Job Email' inbox
To setup those email addresses go to Settings -> click on Company Profile -> click on Inbox Config -> mention the required details -> Click on Save.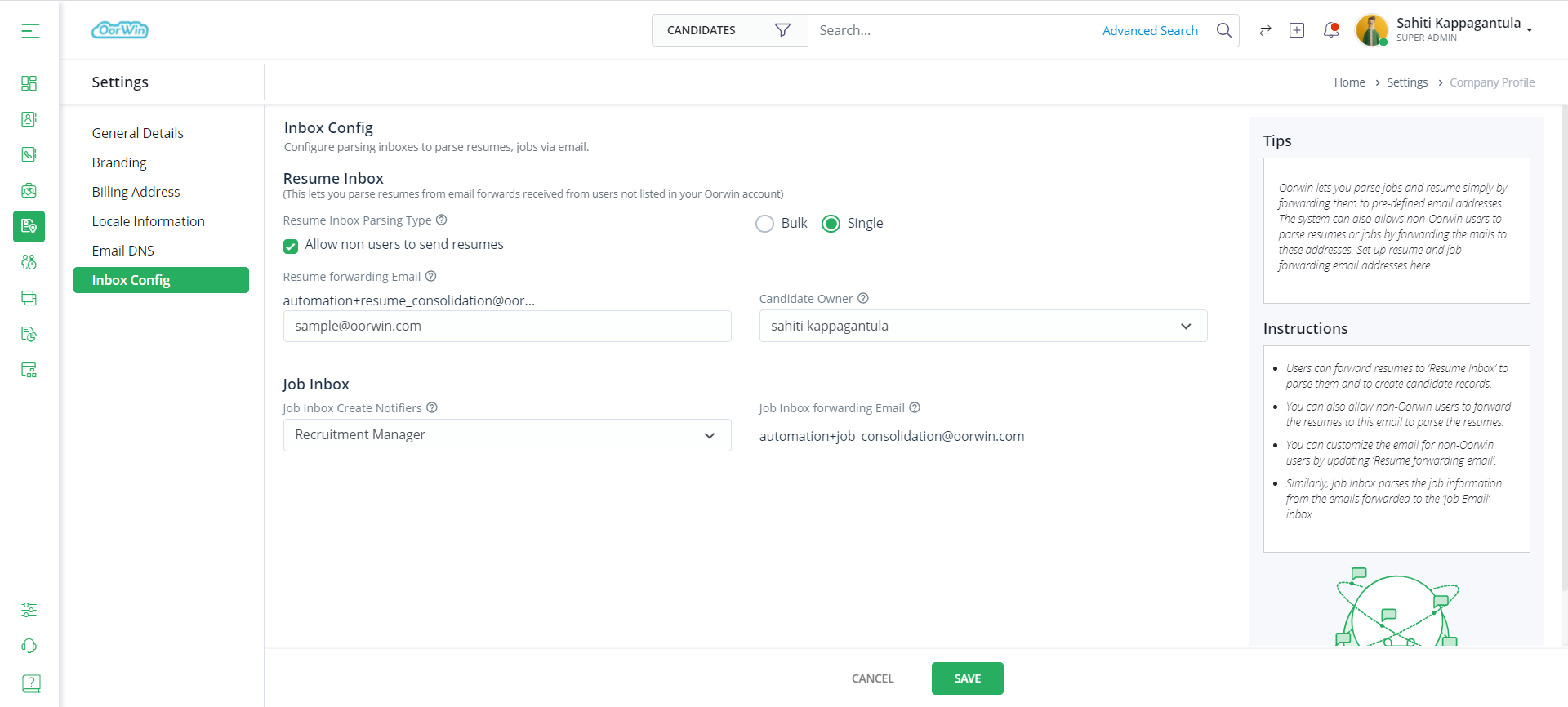 If you are interested to know more about Oorwin's products, take a product tour today or contact us on +91-8977801805 / USA: +1877-766-7946 to talk to our product advisors.
Get the latest Oorwin releases, updates, success stories & industry news
delivered to your inbox.